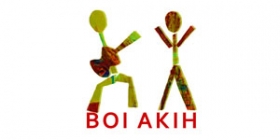 Guitarist en composer Niels Brouwer and vocalist Monica Akihary are the core of Boi Akih, which began in 1996. The duo has developed a distinctive repertoire for the ensemble, one in which cultural roots - musical traditions from the Moluccas, Sunda and Bali, Dutch (European) jazz and improvised music, classical Indian music and traditional African music - form the basis for composition, free improvisation and text. Boi Akih has grown into an ensemble with a striking sound and its very own unmistakable musical idiom.
The search for its 'own' roots has led to Boi Akih's unique sound. Sound exploration, compositional forms, improvisation and performance have been essential facets from the very beginning. The development of Monica Akihary's and Niels Brouwer's distinctive vocal and guitar styles have given sounds and elements from various musical traditions a new meaning within the national an international music world. The French press, reviewing the CD Uwa I, wrote, ' The combination of European, Indian and Indonesian cultures on the one hand with jazz on the other, gives Boi Akih a sound and colour unique in the current musical landscape.' The German press is also full of praise for the innovations: 'four musical world views that groove convincingly, but also a new concept of cultural symbiosis through improvisation.' No surprise then that in France Uwa I was chosen as the year's best world jazz CD.
language
In 1998 the linguistic community hailed Brouwers and Akihary's texts as a phenomenon. While Boi Akih's music subtly refers to Moluccan roots, it is above all through language that Akihary honours her heritage. She writes and sings in her father's native language, regarded as moribund by the scientific world. Since 1998 Brouwer and Akihary have been working with Dutch and Australian linguists who study Haruku. With their help and support, Boi Akih not only keeps the tradition alive, but also employs the language in its most authentic form, poetic self-expression.
concerts
Since the release of its first CD, Boi Akih has made a big impression nationally and internationally at such leading (jazz) festivals and venues as BerlinJazz Fest, Jazz Sous Les Pommier, North Sea Jazz, Jazzkaar, Kaunas Jazz Fest, European Jazz Nights Oslo, Bray Jazz, Awesome Africa Music Fest, Kilkenny Arts Fest, GlattundVerkehrt, Das Konzert Haus, Jazzclub Unterfahrt, Bimhuis, Jazzclub Sunset, Festival Radio France et Montpelier, Theater Musee Quai de Branly, Pole Sud - Jazz D'or and Jazz Grenoble. Boi Akih has also appeared on diverse radio and TV programmes - VPRO - Reiziger in Muziek, Vrije Geluiden, France2 - Les mots et minuit, Radio France- Equinox, BBC – Charlie Gillet Show, ORF- RTL4 Barend en Van Dorp, etc.
discography
The ensemble's debut CD, the self-titled Boi Akih, appeared in 1997 and was very well received by the Dutch press. The general public made Boi Akih's acquaintance through the VPRO TV programme Reiziger in Muziek. Since then the ensemble has been a steady fixture on the Dutch scene.
Brouwer and Akihary continued to inspire each other and made their first international step with the release of Uwa I on the renowned German world jazz label ENJA Records. ENJA Records and Boi Akih have a very special relationship, witness the worldwide release of Uwa I and its successor Yalelol by ENJA. The CD's have been enthusiastically received by public and press alike. Dutch newspapers The Volkskrant and the Parool, and the magazine Jazz, all chose Yalelol as best world jazz CD of 2007.