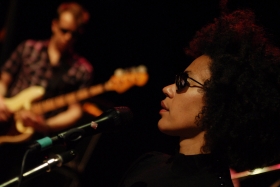 Het Rosa Ensemble maakt al sinds 1997 muziek en theater, voorstellingen en concerten, CD's en composities. Rosa is speels, spannend, theatraal en avontuurlijk, maar soms ook vreemd, weerbarstig en ongrijpbaar.
"The Rosa Ensemble operates in between: in between composed and improvised, in between music and theatre, in between light and serious, in between acoustic and electronic, traditional and experimental, classical and popular.
Rosa is constantly on the move and produces music, theatre, performances, concerts and albums – often in cooperation with other artists. Their music is playful, exciting and theatrical, but also strange, unruly and elusive. The ensemble was founded in 1997 with their first performance Diepe Wildernis, based on the famous book by Brazilian writer Guimaraes Rosa, who gave the ensemble its name. In the course of the following ten years Rosa slowly drifted away from the idiom of contemporary music.
Their sound changed, electronics were introduced, as well as guitar and bass guitar, and the performances became increasingly theatrical. Rosa flirted with modern dance music (Platotectonics, 2001), ambient music (Music for Supermarkets, 2003, and the CD The Blind Spot, 2006) and launched a very successful tour and CD with music of and inspired by Captain Beefheart (Selling Hoovers in Mojave, 2004-2005). In 2007 Rosa celebrated their ten-year anniversary with a new version of Diepe Wildernis (Diepe Wildernis, Aniversie. 2007).
Currently 'Rosa Ensemble' means several things: music/theatre, such as the multimedia surround performance Anticantate (2009), integrating music, video and text. Concerts , exploring their experimental "pop" sound - a poetical mix of richly arranged compositions, swinging rhythms, warm, human electronics and strange lyrics.
The album No Ark Dead Eel, was released in February 2010 by Dying Giraffe Recordings, followed by a 15th anniversary limited edition album 'Shortbread & Outcakes' and a live recording of 'Anticantate' in 2013. 2014 is marked by a large scale video performance due to premiere at the Operadagen Rotterdam in may. Whether one calls it arty pop music or popular art music, the Rosa Ensemble is the Rosa Ensemble: for those who like exciting music, eclectic seldom sounded so self-evident."